Krappy Kreme "frozen blend"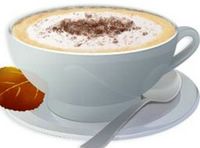 coffee week, day 1
(note: this item is only loosely "coffee-related")
prologue:
Krispy Kreme
's donuts
blow
. Now they have a
crappy
frozen drink too. (Actually, they've had it since
July '04
, but in limited release.) No surprise, it's already tanking, which you can tell cuz they're trying to drum up biz w/ 2-for-1 coupons.
(if only the DMN would come to the rescue w/ a big story like they did when krispy kreme first came to town: "donut shop opens!")
Frozen blends
(
catchy
!) consist of
powder
blended w/ ice -- another gross-tasting sbux
clone
, except this doesn't even have coffee mixed in. There's choc, coffee, raspberry, and something called original kreme, described as a "drinkable version of the company's signature donut"
but which is really pretty much vanilla
.