Almond Joy pina colada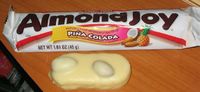 shoutouts to the awesome
snackspot.org.uk
for this image
Almond Joy
vs.
Mounds is a
torrid
debate
, and now Hershey's is muddying the waters w/ three Almond Joy ltd editions and-or special flavors.
(And btw, the Hershey's lady said these are all new, but two may have been intro'd on a ltd sked last year. Pls do not
shoot the messenger
. Thank you.)
One is aimed at the chocolate camp; the other two are fruity.
Almond Joy chocolate-chocolate
has the choc coating you-know-and-love but the coconut filling is chocolatey, too.
(Had this mths ago loved it never saw it again.)
The other two have white-choc coatings:
Almond Joy pina colada
, with a pineapply coconut; and newest-of-all,
Almond Joy key lime
, with a limey coconut. No first-hand testimony is available on these two;
some
say the fruity flavoring tastes fake. But it's still clever since there's only so many ways to spin off an almond joy.