Twizzlers Twerpz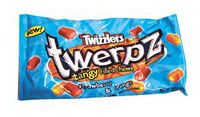 the name pretty much broadcasts "this is for kids"
Sour sorta had its
heyday
a couplo years ago, but sales did rise 14% in '03, so maybe that's enough for Hershey's.
Twizzler Twerpz
' official description is "strawberry and orange tangy filled chews." They're sposed to be Twizzlers filled w/ cream. The center is
slightly
frothier, but they're basically just gummy bites. And not all that sour - more puckery-faux-fruity. Despite any gut revulsion, once they cross the
threshold
, they have a briefly
addictive
effect even for an adult (tho the Plano guy couldn't even stomach the super-sweet artificial smell). Hershey's on a sour kick: It also intro'd watermelon and sour-apple Twizzlers
the latter of which is an unfortunate

green

.