Twix: dark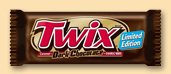 dark twix good regardless of how many unintentionally gratuitous NYCE mentions it earns
Yes yes another Twix tout. (not to mention more dark-choc
piling-on
.) Why not just get on the $#% Masterfoods
payroll
, you ask.
Love to
- xcept they clearly don't need to spend a
cent
to get 24-7 coverage here. Hey, if someone besides Masterfoods would introDUCE some new NYCEy-type products, maybe this-here site wouldn't be ALL-twix-(and-dove-and-M&M-and-)-ALL-the-time. Thank you. Oh darn: that tantrum leaves no room to rant on re: the
superiority
of dark choc and its
anti-cancer
whatevers
,
like that's the reason people eat chocolate
. Full disclosure, this product is not
100%
brand new. But it IS new to the area (I just finally found 'em at 7-11) and it IS a limited edition, which invokes that sense of
urgency
. ANYWAY, they're killer, what w/ the bitter
wine-y
quality of the dark choc juxtaposed against the luscious caramel goo and the slightly salty aspect of the cookie,
altho
not everyone
agrees with that assessment
.