Rush Patisserie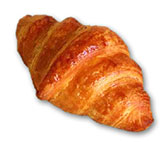 Rush Patisserie
is named after chef-owner Samantha Rush
(vs. the
'91 drug film
vs the snicker
canadian power trio
)
, who moved back to D from Vegas, where she made pastry for hotels such as the
Green Valley Ranch Resort
. At Rush, she'll do cakes, pastries, and hello,
croissants
. She's taken over the space in Deep Ellum that used to be
sweet endings
, on the corner of elm & Malcolm X. oh but "
taken over
" doesn't even hint at the transformation. IE, goodbye
pepto-bismol
pink exterior,
we won't miss you
. and "hi" to the new exterior painted
café au lait
. She's changed the whole vibe, man, from quaint pastry shop to boutique. To go w/ the pastries there'll be hot coffee ..
none of that
cappuccino
silliness
2901 Elm St. 214-749-4040, opening any day now