BK chick fries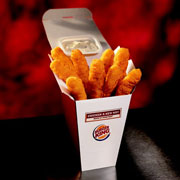 say, how bout some chicken-like extrusions
Here's what you get when portability is your priority:
BK Chicken Fries
, which Burger King actually has the balls to call "innovative."
As if extruding chicken into a French fry shape is innovative.
The chick sticks are coated in a "
zesty
, seasoned batter" and served in a cup that fits into your car
cup-holder
, w/ a well on the side for sauce (
buffalo, BBQ, honey-must, sweet&sour, ranch
). BK was already doing chick tenders, so this is just a mktg campaign to get young males on board (
which is why the ads star a stupid fake band named Coq Roq – can you believe? on TV?
) They're $1.69 / 6 or $2.69 / 9, but keep in
mind
that
all this
ultra-cheap
chicken
ain't cheap if you consider
factory farms
, the
pathetic
chicks themselves, the air/water
pollution
, etc.
Somebody pays down the road.