Kit Kat orange & creme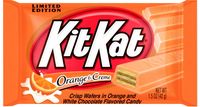 a NYCE exclusive! no applause necessary. really. stop. i mean it.
Hot-hot-hot

Kit-Kat spinoff alert!
CVS has 'em NOW:
orange & crème Kit Kats
. It's a limited edition with an orangey cream coating (which
ech
consists mostly of artery-clogging palm kernel oil, but let's not bogue our new-kit-kat-spinoff high, shall we). Orange Kit Kats are old news in
Europe
, but theirs is more sophisticated, w/ la-dee-da
Seville
and/or
blood
orange fillings. Guess they hadda dumb it down for Americans (outsida the U.S., Kit Kat=Nestle; but here it's Hershey. weird, eh). The Kit Kat Thing is off the hook: wild
spinoffs
we can't get and a Kit-Kat cult seen on candy
blogs
everywhere
. In the U.S.: we briefly got
mint
Kit Kats last Xmas; a limited-edition
triple
choc came out in January (never saw that, tsk); and
white
choc graduated from limited-> year-round product.
so much to say about Kit Kat!